Jersey Ford Lightning

Here are photos of my '94 and '99 Ford Lightning, along with my Ford Pick up and Thunderbird. Pictures of Lightnings from other owners are featured below and on - Page 2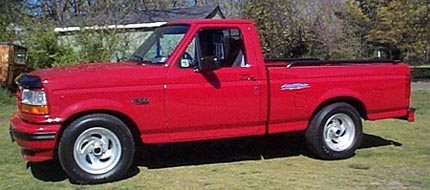 ---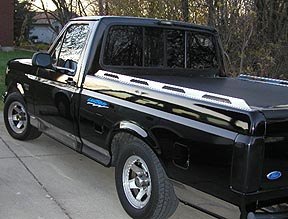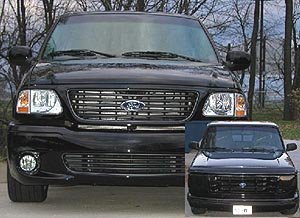 These 1993 and 2001 Lightnings belong to Terry, from Illinois.


---


This 1994 Lightning picture was sent to us by Kyle.


---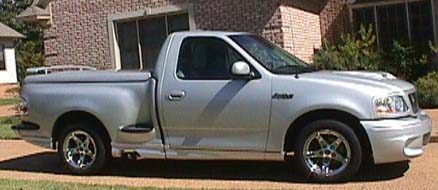 This 2000 Lightning has 6500 miles on it and has A.R.E. hard fiberglass bed cover, chromed stock wheels, 2001 Lightning taillights, headlights, coner lights, Muth signal mirrors, 2001 aluminum SVT driveshaft, color matched carpeted bed liner, Trenz Billet grilles, Superchip flip-chip, Borla stainless cat back exhaust and a Airaid intake system.


---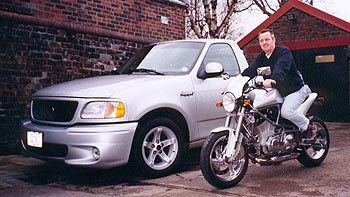 This Lightning is owned by Douglas, who lives in Scotland. He bought it in November 2000, and it is the only Lightning in Scotland! He is interested in contacting other Lightning owners, as there isn't much technical support available in Scotland - mailto:Douglas@Europools.co.uk


---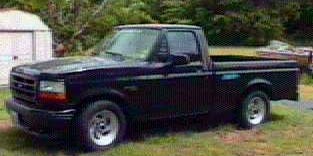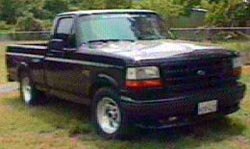 The pictures of this Lightning were sent to us by Richard from Fort Worth. He tells us 'I am thinking about Painting my LIGHTNING in a blue just a little darker than the LIGHTNING lettering on the decals. I would like to know if anyone has ever seen a LIGHTNING painted a color other than the 3 factory colors. If you have or have an opinion about it - Email Richard and let me know. I also plan to put a digital dash in soon.'


---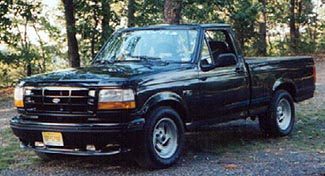 This 1993 Lightning picture was sent by Laurence from NJ. He tells us 'It has run a best of 15.1@89MPH stock at Atco Raceway, NJ. Since then, with some minor modifications I have run a best of 14.69@91.01MPH. Modifications are K&N Panel Filter with Diesel Ram Air tube, 180* thermostat, ASP underdrive pullies, Transgo Shiftkit, 1.7 Cobra Roller Rockers, and 14* timing. Suspension mods include Eibach springs and shackles, and Energy suspension bushings. It also has a Downs Ford roll pan, and a Fastback Flushmount bed cover.'


---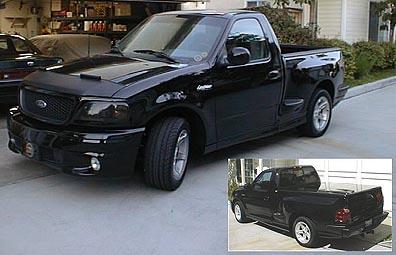 This picture was sent to us by Tim from San Diego. It is his shiny new 2000 with fiberglass toneau, headlight covers, hood protector (mini-bra) and altered front lic. plate location. Also has a drop in bedliner and tinted windows.


---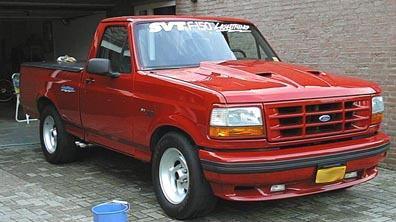 Can you believe a Lightning in Europe? SSGT Matthew H. sent us this picture of his lightning parked in front of his home in Holland. He says it's a great attention getter driving down the Autobaun, and that many Europeans admire it. He tells us - "She's run a best of 14.8@91 in the 1/4 and soon (thats before I return with the truck to the states in August 01) I plan on a S-Trim supercharger....eventually, I'm shooting for 12.5-12.8 range"


---


Check out some more Lightnings on Page 2


---


Do you own a Ford Lightning?
Would you like to have your picture added here?
Let me know - Send me a message
You can send pictures by email or snail mail your pictures and I'll scan & add them to this page.


Sign the Guestbook
Make contact with other Lightning owners.
Talk about your Lightning, list your year and extras, post Lightning items that you are looking for, or Lightning items that you have to trade or sell.


---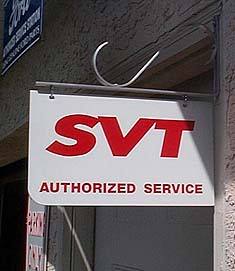 Visit some more Lightning Links :