Stained Glass Ford Agency Window

This is an old, all original stained glass window. It came from a Ford dealership/garage in Nicholasville Kentucky. The 2 photos below show the agency in the 1920's. The first photo was taken on it's opening day. It looks like there were orginally 5 of these stained glass windows on the dealership building - the center section had one on the front and one on each side, then there was another window above each end garage. I've never seen one of these windows before, so I am guessing that this agency had them custom made. The window that I bought was saved when the agency closed, I'm not sure what happened to the 4 other windows.

(click on images for much larger views)

The 2 gas pumps seen in the photos are Wayne Cut 615's. The globes are Standard Oil KYSO 16.5" metal bodies. One globe is Crown Gasoline. The other is Crown Ethyl Gasolene with Ethyl logo in center.




The window is made of glass in the bright Ford blue. The glass is very nice and all original. It has some minor crazing from age, but no breaks or cracks. The frame is also original and it is wood that is painted white. The previous owner put a thin metal frame around the outside of the wood frame, with loops on the metal frame to hang the window.

(click on images for much larger views)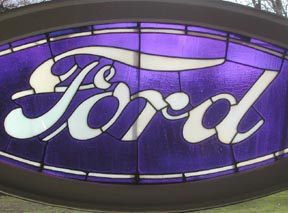 Below shows the back of the sign. You can see the original wood frame with the thin metal frame that was added. The previous owner also added some bulbs so that you can light up the sign indoors.
Home




This page has been visited