Monsanto & Solutia Retirees Breakfast Meetings
4th Wednesday of each month, 8AM at Harrison House




Click here to Check out the Contact Info - for emails, addresses & phone numbers
Check out more photos from last year's Breakfast Meetings page 2






March 26th 2008 - those attending today were Bob Hammond, Ed Tokley, Neil Robinson, Jessie James, Jim Wigglesworth, Bob Wurst, John Mitchell, Tom Wilson, Wayne Bentley, Dave Crispen, Ralph Johnson, Chuck Carty and Sam Baker.

November 2007 Breakfast - Quint Pflasterer, Chuck Carty, Sam Baker, Bob West, John Workman, Joe Manni, Jim Wrigglesworth, Wayne Bently, Jay Yucis, Bob Wurst, Dave Crispin, Skip Watson, Tom Wilson, John Mitchell, Neil Robinson, Matt Jackson and Dan Kinner.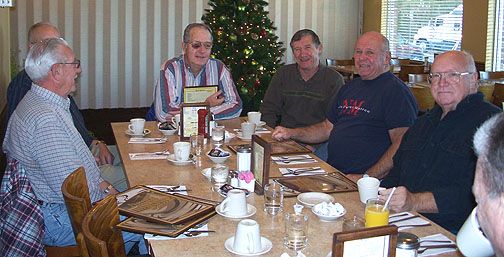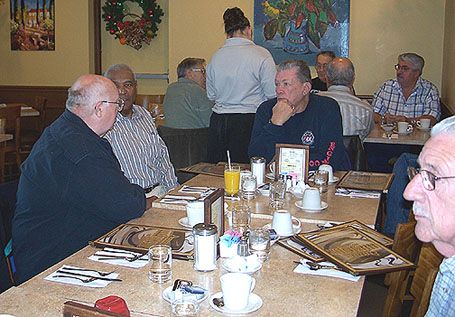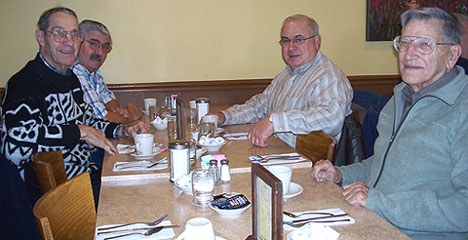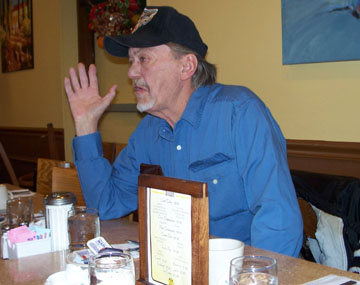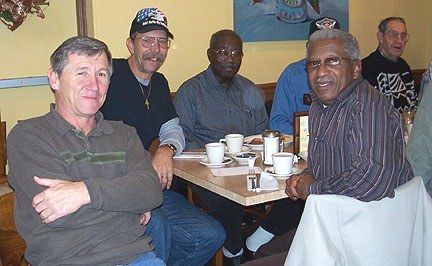 ---




March 2007 Meeting - Joe Garozzo, Lee Griffin, Russ Shivler, Jim Speakman, Jay Yucis, Bob Wurst, Al Thompson, Marie Porter, John Mitchell,Tom Wilson, Joe Manni, Bob Hammond, Quinton P, Dave Crispin, Ralph Johnson


---


February 2007 Meeting - was held at the Harrison House on Wednesday morning, February 28. Those in attendance were as follows: Gunnar Fox, Chuck Carty, Quint Pflasterer, Jim Wigglesworth, Ralph Wyland, Russ Shiveler, John Mitchell, Tom Wilson, Ken Hague, Neil Robinson, Matt Jackson, Lee Griffin, Phil Tomeo, John Workman, Jim Speakman, Dave Crispin, and Joe Manni.


---


January 2007 Meeting - Jim Speakman, Matt Jackson, Bob Wurst, Phil Tomeo, Ken Hague, Wayne Bentley, Ralph Johnson, John Mitchell, Tom Wilson, Angelo Coco, Dave Crispin, Joe Ficara, Russ Shiveler, Chuck Carty, Ed Birtwell, Quintin Pflasterer, Joe Manni, Leon Barber, Jay Yucis, Ed Tokley, Lee Griffin, Jim Wigglesworth, Bob Hammond


---


December 2006 meeting - Dave Crispin, John Mitchell, Sal Previtera, Jim Speakman, Jay Yucis, Phil Tomeo, Sam Baker, John Workman, Matt Jackson, Ralph Johnson, Tom Wilson, Quint Pflasterer, Bob Wurst, Bob Muhlbaier, Joe Manni, Milt Beebe, John Reck and Jim Wrigglesworth.


---
October 25th, 2006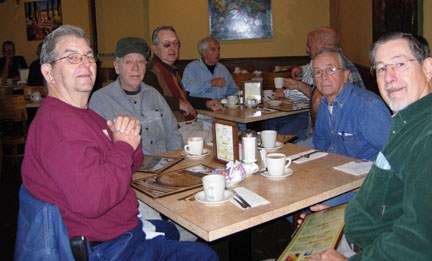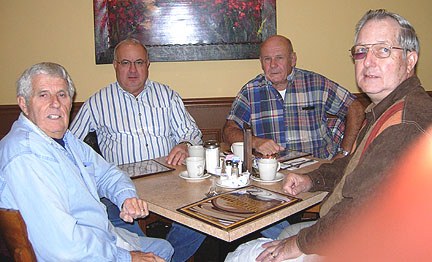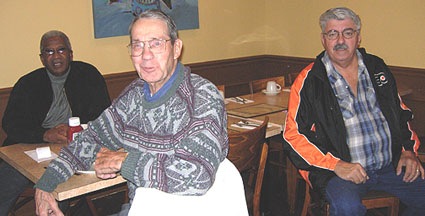 ---
Check out more photos from previous Breakfast Meetings page 2



Business Cards